**On Saturday in a synagogue in San Diego, Ca. another hate crime was committed. A lone gunmen entered the synagogue during prayer services, on the final day of Passover a high holiday in the Jewish faith. He proceeded to open fire on the unsuspecting worshipers killing one and injuring at least three more. Another sick event another tragedy, another moment when Donald Trump offered no words of comfort. He struggled to even call this a hate crime. **C'mon man!.
**Do us all a favor, RESIGN! . A third grader knows it's a hate crime, you moron. Forget your politics, quite frankly there irrelevant, your a danger to the National Security of this country be it externally of internally. You suck at both.
Part of the remaining article/blog is credited to Ben Orbach with some editing credited to the writer, the closing paragraph is credited to Bruce Solo. The portion Ben wrote was in October 2019.
Sunday evening, I attended a vigil at Beth Am Synagogue in Los Altos, California, for the 11 Pittsburghers who were shot and killed at Tree of Life synagogue on Saturday. It seemed like every faith was represented at the event, and there was solidarity among the hundreds of people who attended.It isn't enough, though. I'm done with "thoughts and prayers" in the wake of such tragedy.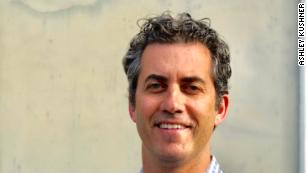 Ben OrbachI grew up in Squirrel Hill, the Pittsburgh neighborhood where the synagogue shooting occurred. I went to a Jewish elementary school, a majority black middle school, and a high school that was something in between, reflecting the diversity of our warm, inclusive, American community. I celebrated bar and bat mitzvahs at Tree of Life when I was a kid. I played pick-up basketball a few blocks away on Saturday afternoons. I never experienced anti-Semitism until I went away to college. Pittsburgh isn't perfect, but it has a character that people want to be a part of, even after they move away.Tree of Life was like any other synagogue, church, mosque, temple or shrine in our country — it was a place where people practiced their faith and drew strength and comfort from celebrating culture, history, and ritual together. The individual who killed 11 Americans as they prayed was the one who was out of place. Not us.c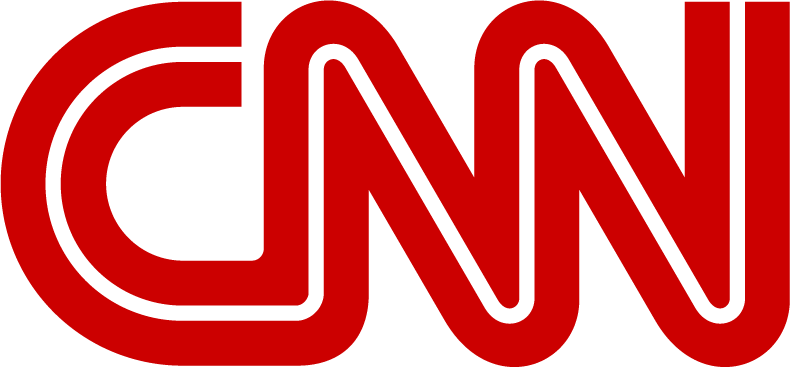 His hate crime is treason against our country's character. We aren't living in 1939 Poland or 1948 Iraq, where Jews faced the life-threatening horrors of anti-Semitism. In 2018 America, we are all equal, whatever our race, religion, gender, or ethnicity. We live under the same Constitution.Yes, I draw strength from joining together with Muslims and Catholics and Americans of other faiths to embrace the reality that we are one people living together. But even without that inter-faith embrace, no disciple of hate, whether he carries an assault weapon into a synagogue or stands before a White House podium, is going to change the fact that this is our country.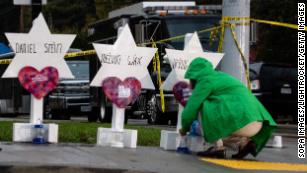 My grandmother fled the Holocaust. I'm glad she's not around for thisFor the last two years, the Trump administration has normalized hate through its policy attacks on Muslims, asylum-seekers at the southern border, and thetransgender community, among many others. This President has used his pulpit to marginalize murder in Charlottesville and support violence against protestersand journalists, stoking fires in the places where hate has festered throughout our history but had not previously been given the sunlight to grow.The President's daughter offered up a tweet of support to the "Jewish people." She and others need to re-think their messages. This murderer attacked America. Members of the Jewish community aren't "the other" here, and we won't be relegated.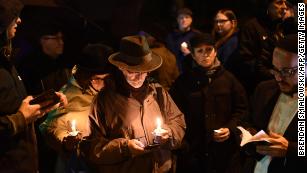 Pittsburgh rabbi says he won't 'let hate close down' his synagogue after massacreSo, please hold your "thoughts and prayers." Everyone searches for the right thing to say in the face of a tragedy. We struggle for words that will match the sorrow that we share and the vileness that we condemn. Prayer may deliver comfort in this awful moment, but we aren't going to love away the hate and selfishness that fills those who commit such atrocities nor their apologists.To those who wish to provide support, instead of offering thoughts and prayers, say that you are going to vote. **This President must go! Please vote in November 2020. Tell us that you are going to get out the vote and phone bank over the next year or so. **I'll be canvassing for almost any other candidate, than Donald Trump whether they be Republican or Democrat. I'll be canvassing for a good, decent, Uniting and devoted Human being. Whose devoted to the best interests of the American People. Donald Trump is not interested in the best interest of the American People. He is interested only in his best interest!!! And to think there are people and a significant amount of people who still support him. Shame on you!
** Opinion offered by Bruce Solo in no way reflects the opinion of Ben Orbach